Who We Are
We are a family owned and operated Los Angeles company that is powered by customer service. For close to 20 years our focus has been on creating relationships that are founded on accountability, reliability and professionalism. We focus on job quality and job site cleanliness. Our estimators are experts at leak detection and problem solving. Our goal is to provide you with effective solutions to your decking problems without compromising quality. No job is too big and no job is too small.
Our Specialties
National Deck and Stair specializes in the applications of waterproof deck and stair coatings. Our main applications are multilayer fiberglass coatings such as Desert Crete. We also are one of the largest installers of magnesite flooring. Magnesite is a magnesium oxychloride form of cement that is waterproof and has been in use since the early l920's.
Our waterproofing applications are widely used on decks, balconies,  walkways, staircases and pool decks. A number of finishes and textures are available ranging from smooth to heavily textured, knockdown finishes, skip troweled finishes and stenciled patterns. You have a lot of colors to choose from, and custom colors can be easily made to suit your application. We also install precast tread replacements and iron based precast stairways, as well as metal railings, fencing and gates. If we can be of service please give us a call. We look forward to hearing from you.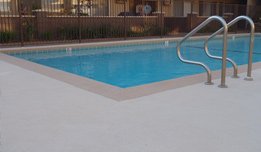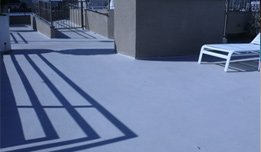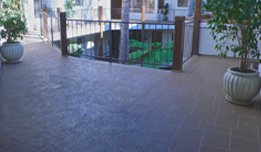 Let's Get Started
We are located in the city of Huntington Park, in Los Angeles County. However, our work crews cover the entire Southern California region.
You can call us directly at (888) 299-9393 to make an appointment for a free, no-obligation consultation.
We can give provide you with a cost estimate and the length of time required to complete the project. We work with the home or business owner to provide the most efficient and cost-effective approach to solving your problem
Contact Us For FREE Estimate